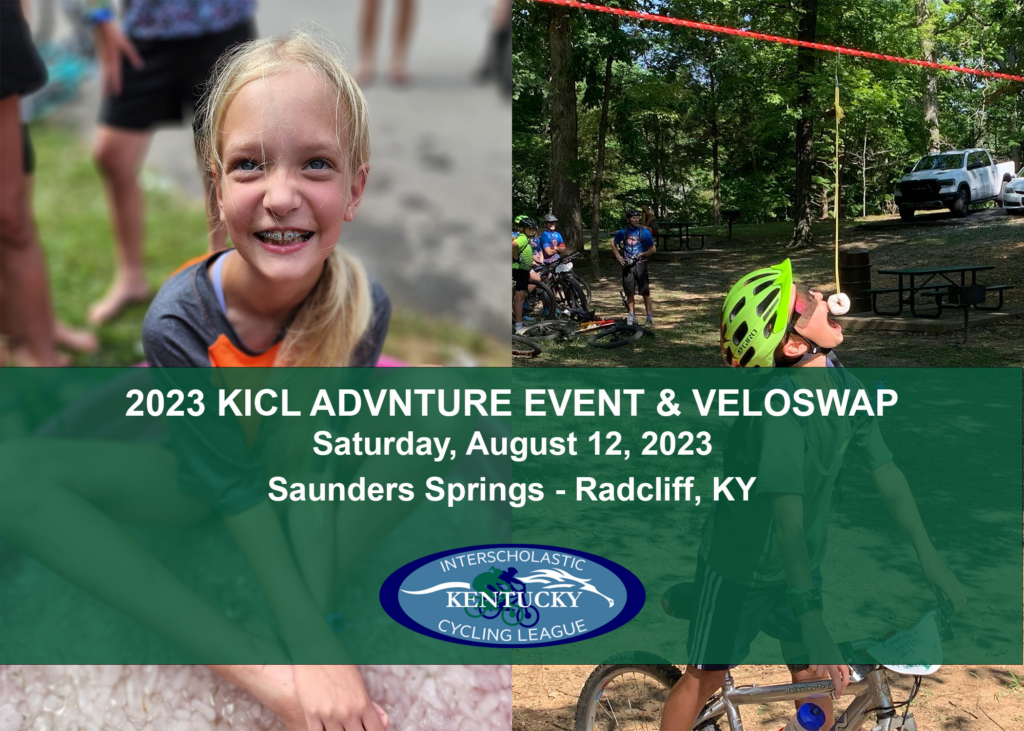 AUGUST 12, 2023 (Saturday)
Saunders Springs Nature Preserve (Radcliff, KY)
9 AM – 3 PM
YOU DESERVE AN ADVENTURE!
Bring your team, your coaches, your families, your team tent, your bike, your helmet, your veloswap goodies, and your lunch!
---
HOW TO REGISTER: Deadline is July 31st
RIDERS & COACHES: Tell your Head Coach & Team Director that you are planning to attend.
HEAD COACHES & TEAM DIRECTORS: Use the Team Sign Up button below to complete the Google form. Just fill in the blanks and click on the "Submit" button.
---
WHO/WHAT/WHEN/WHERE
Who: KICL Teams & Families
What: KICL Adventure Event & Veloswap
When: Saturday, August 12, 2023
Time: 9am – 3pm
Where: Saunders Springs Nature Preserve
100 Saunders Spring Ln., Radcliff, KY 40160
Google Map HERE
---
WHAT YOU WILL BE DOING
Riding bikes, playing on the bike and off the bike games, making friends, selling and buying awesome bikes and gear with other families, and making good mischief!
VELOSWAP INFO
A veloswap is a great way to sell, giveaway, or trade your gently used bikes, helmets, apparel, shoes, and parts. Each Team can bring one 10×10 tent to host their veloswap. The spirit of a veloswap is to provide families a chance to buy and sell gear within a community of fellow riders in a way that is of benefit to both the buyer and the seller. KICL is not responisble for any veloswap transactions.
---
Please contact Eric Schweighauser, KICL Adventure Coordinator, at eric@kentuckymtb.org with questions.