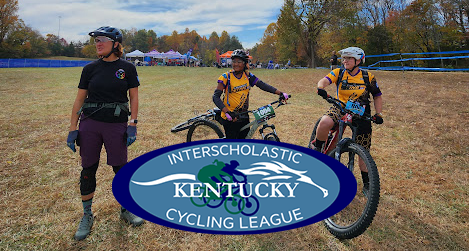 APRIL 29 – 30, 2023
Boilermakers Local 40 Union Hall
429 Commerce Dr., Elizabethtown, KY 42701
Google Map: https://goo.gl/maps/NUDb4uF7NBFbjDv6A
LEARN | PLAY | CONNECT
The Kentucky Interscholastic Cycling League's annual Coach Retreat will bring together KICL coaches from across KY to develop skills and knowledge, share strategies, build community, and ride bikes. All coaches and team volunteers welcome.
WHAT YOU'LL BE DOING (full schedule will be emailed to all participants)
The Coach Retreat will offer workshops and activities to help you plan your season, develop coaching skills, complete certifications, and connect with other coaches and KICL leadership.
LINK TO COACH RETREAT SCHEDULE
SATURDAY, APRIL 29th: Breakfast & Lunch Provided 8:30 am – 5:00 pm
Workshops & Presentations focusing on off-the-bike coaching skills, State of the League, and Trail Ride and Tailgate Mixer.
VIP Guest Panel: Sen. Matt Deneen (10th District), Mayor Jeff Gregory (Etown), Ed Poppe (Etown City Administrator), & Jon Strom (Attorney & KYMBA Bluegrass President)
SUNDAY, APRIL 30th: Breakfast & Lunch Provided 8:30 am – 4:00 pm
Sunday has two (2) different track options for participants. You will be asked to choose only one track for Sunday during registration.
Track 1: Win the Season – workshops focusing on planning the season & team development followed by on-the-bike games and race day skills.
Track 2: NICA approved Hybrid First Aid/CPR for level 3 & afternoon bike session (you will be emailed a link to complete your online portion of this certification and will need to print out your certificate of completion & bring it with you on Sunday).
**REMEMBER – YOU WILL SELECT ONLY ONE TRACK FOR SUNDAY WHEN YOU ARE REGISTERING.
Scholarships are available by request (no application). For more information or to request a scholarship please contact KICL Coach Development Manager, David Haines by emailing david@kentuckymtb.org.
Lodging:
https://www.touretown.com/hotels/
Glendale Campground (270)369-7755